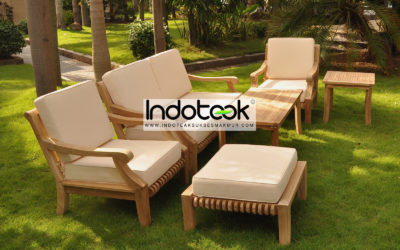 Buy teak garden furniture from Us. We offer the high-end products furniture. Bring the style and comfort of home garden furniture to your outdoor spaces with this Teak Couch Stool Deep Seating Patio Chair Furniture with Cushions. Comfort, strong, durable and elegance teak outdoor furniture made from solid teak wood Indonesia. Our Garden Stool Deep Seating Patio Chair with Cushions features low-profile club styling with beautiful colour. Its easy-to-maintain because the cushion is washable combined A grade teak wood Indonesia, while it's polyester cushions resist fading, weather, and moisture. The cushions are filled with foam inserts and are removable.
Please contact Us and order Now.
We are manufacturer and exporter of wooden teak furniture and other kinds of wood, both outdoor, balcony, patio and indoor. As a manufacturer and international supplier, CV. Indoteak Sukses Makmur has provided wholesale furniture distributors with some of the best furniture in large quantity. Whether you're looking to design your own collection or take a pre-existing design, Indoteaksuksesmakmur.com can be your trusted partner.
All the timber used in the making of our furniture is cultivated from government certified plantation controlled by Perhutani State Forestry and SVLK Certificate (Legal Wood Indonesia) to ensure reforestation and the protection of rain forests vital to the world's ecosystem.
Find high quality Cushion For Teak Couch Stool Deep Seating, Teak Garden furniture, Lounge deep seating set, Patio Dining Set furniture, solid wood teak Outdoor furniture, colonial indoor furniture, wooden teak patio furniture and kiln dried solid teak furniture at the lowest prices and affordable price. Shop teak garden furniture and a variety of outdoors products online at Indoteaksuksesmakmur.com today.
Please buy teak furniture from us with confidence., High end products at very competitive price available here.